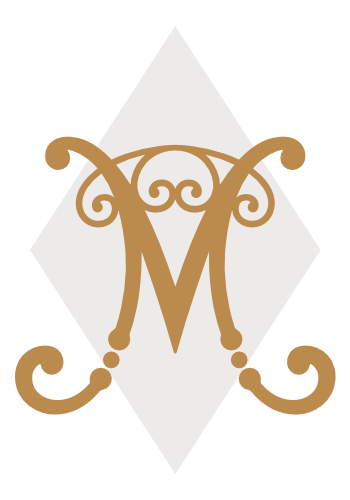 The sale of alcohol to minors is prohibited.
By accessing our site, you declare that you are 18 years old.
Le Baron de Malleret
A.O.C. Haut-Médoc
75 cl
This is the Château de Malleret's more youthful relation, characterised by a great fruitiness. While never overpowering, the strong aromas provide an excellent sense of identity which runs from the nose, through the flavours on the palate and right up to the superb finish. The wine's round, long tannic structure is a reminder of the elegance and nobility of its origins.

12.00 € TTC
10.20 € TTC Christmas promo price
the bottle 75 cl, i.e. the 6 bottles at 61.20 € TTC (72.00 € TTC)
Ref : HBM21B
in stock,
Delivery 7 to 10 working days
Shipping monday to friday
You wish to be delivered before Christmas? Order before December 12th. Please note that no shipments will be possible from December 22th to January 2nd inclusive. Orders placed during this period will be processed from January, 3rd 2024.
Recommended service temperature : 17°
The perfect accompaniment to a rack or leg of lamb.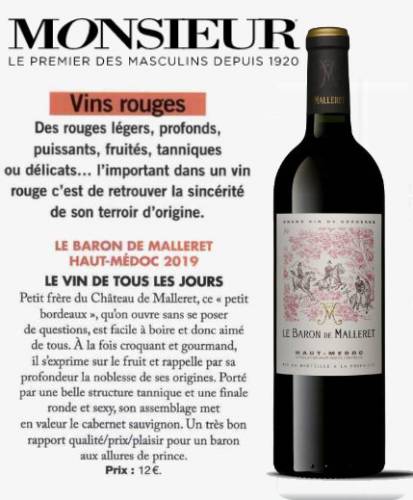 Article Monsieur, 2022-04-22
Le Baron de Malleret, Haut-Médoc 2019, le vin de tous les jours
Petit frère du Château de Malleret, ce « petit bordeaux », qu'on ouvre sans se poser de questions, est facile à boire et donc aimé de tous.
À la fois croquant et gourmand, il s'exprime sur le fruit et rappelle par sa profondeur la noblesse de ses origines. Porté par une belle structure tannique et une finale ronde et sexy, son assemblage met en valeur le cabernet sauvignon. Un très bon rapport qualité/prix/plaisir pour un baron aux allures de prince.

Secure payment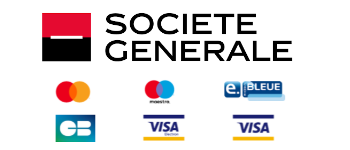 Need help?
+33 5 56 35 05 36
Monday to Friday
from 9am to 5pm
except holidays

Delivery & shipping costs
for France
10 € fee for 6 bottles,
€10 per magnum or double-magnum,
free from 12 bottles or 30 € of Grand Format
Array
(
    [HCB11B] => Array
        (
            [prix] => 14.000000
            [quantite] => 290
            [promotion] => 15
        )

    [HCB11M] => Array
        (
            [prix] => 37.000000
            [quantite] => 48
            [promotion] => 30
        )

    [HCB12B] => Array
        (
            [prix] => 14.000000
            [quantite] => 6509
            [promotion] => 15
        )

    [HCB15B] => Array
        (
            [prix] => 15.000000
            [quantite] => 0
            [promotion] => 15
        )

    [HCB15M] => Array
        (
            [prix] => 38.000000
            [quantite] => 61
            [promotion] => 30
        )

    [HCB16M] => Array
        (
            [prix] => 39.000000
            [quantite] => 52
            [promotion] => 30
        )

    [HCB152] => Array
        (
            [prix] => 102.000000
            [quantite] => 5
            [promotion] => 
        )

    [HCB162] => Array
        (
            [prix] => 106.000000
            [quantite] => 2
            [promotion] => 
        )

    [HCM12M] => Array
        (
            [prix] => 43.000000
            [quantite] => 0
            [promotion] => 
        )

    [HCM122] => Array
        (
            [prix] => 107.000000
            [quantite] => 16
            [promotion] => 
        )

    [HCM13B] => Array
        (
            [prix] => 14.000000
            [quantite] => 0
            [promotion] => 15
        )

    [HCM13M] => Array
        (
            [prix] => 38.000000
            [quantite] => 108
            [promotion] => 30
        )

    [HCM14B] => Array
        (
            [prix] => 17.000000
            [quantite] => 10049
            [promotion] => 15
        )

    [HCM14M] => Array
        (
            [prix] => 43.500000
            [quantite] => 16
            [promotion] => 
        )

    [HCM142] => Array
        (
            [prix] => 107.000000
            [quantite] => 1
            [promotion] => 
        )

    [HCM15B] => Array
        (
            [prix] => 21.000000
            [quantite] => 1227
            [promotion] => 15
        )

    [HCM15M] => Array
        (
            [prix] => 52.000000
            [quantite] => 0
            [promotion] => 
        )

    [HCM152] => Array
        (
            [prix] => 132.000000
            [quantite] => 21
            [promotion] => 
        )

    [HCM16B] => Array
        (
            [prix] => 22.500000
            [quantite] => 33726
            [promotion] => 15
        )

    [HCM16M] => Array
        (
            [prix] => 55.000000
            [quantite] => 0
            [promotion] => 
        )

    [HCM162] => Array
        (
            [prix] => 142.000000
            [quantite] => 20
            [promotion] => 
        )

    [HCM17B] => Array
        (
            [prix] => 20.500000
            [quantite] => 3192
            [promotion] => 15
        )

    [HCM17M] => Array
        (
            [prix] => 51.000000
            [quantite] => 8
            [promotion] => 30
        )

    [HCM172] => Array
        (
            [prix] => 129.000000
            [quantite] => 10
            [promotion] => 
        )

    [HCM18B] => Array
        (
            [prix] => 26.500000
            [quantite] => 0
            [promotion] => 15
        )

    [HCM18M] => Array
        (
            [prix] => 63.000000
            [quantite] => 5
            [promotion] => 
        )

    [HCM182] => Array
        (
            [prix] => 166.000000
            [quantite] => 20
            [promotion] => 
        )

    [MM+11B] => Array
        (
            [prix] => 32.000000
            [quantite] => 23
            [promotion] => 15
        )

    [MM+11M] => Array
        (
            [prix] => 72.000000
            [quantite] => 43
            [promotion] => 30
        )

    [MM+14B] => Array
        (
            [prix] => 32.000000
            [quantite] => 12
            [promotion] => 15
        )

    [MM+14M] => Array
        (
            [prix] => 75.000000
            [quantite] => 71
            [promotion] => 30
        )

    [MM+142] => Array
        (
            [prix] => 202.000000
            [quantite] => 32
            [promotion] => 
        )

    [MM+15B] => Array
        (
            [prix] => 34.000000
            [quantite] => 0
            [promotion] => 15
        )

    [MM+15M] => Array
        (
            [prix] => 80.000000
            [quantite] => 1
            [promotion] => 
        )

    [MM+16B] => Array
        (
            [prix] => 34.000000
            [quantite] => 20
            [promotion] => 15
        )

    [MM+16M] => Array
        (
            [prix] => 81.000000
            [quantite] => 52
            [promotion] => 
        )

    [HBM18B] => Array
        (
            [prix] => 11.000000
            [quantite] => 0
            [promotion] => 15
        )

    [BBL19B] => Array
        (
            [prix] => 19.500000
            [quantite] => 0
            [promotion] => 15
        )

    [HCM19B] => Array
        (
            [prix] => 26.500000
            [quantite] => 2142
            [promotion] => 15
        )

    [MM+19B] => Array
        (
            [prix] => 37.500000
            [quantite] => 2539
            [promotion] => 15
        )

    [HBM19B] => Array
        (
            [prix] => 12.000000
            [quantite] => 120
            [promotion] => 15
        )

    [BBL20B] => Array
        (
            [prix] => 19.500000
            [quantite] => 0
            [promotion] => 15
        )

    [BBL21B] => Array
        (
            [prix] => 20.000000
            [quantite] => 90
            [promotion] => 15
        )

    [HCM202] => Array
        (
            [prix] => 198.000000
            [quantite] => 56
            [promotion] => 
        )

    [HCM20B] => Array
        (
            [prix] => 31.500000
            [quantite] => 39100
            [promotion] => 15
        )

    [HCM20M] => Array
        (
            [prix] => 74.000000
            [quantite] => 219
            [promotion] => 12
        )

    [MM+19M] => Array
        (
            [prix] => 86.000000
            [quantite] => 32
            [promotion] => 
        )

    [MM+192] => Array
        (
            [prix] => 234.500000
            [quantite] => 5
            [promotion] => 
        )

    [MM+20B] => Array
        (
            [prix] => 38.500000
            [quantite] => 9895
            [promotion] => 15
        )

    [MM+20M] => Array
        (
            [prix] => 88.000000
            [quantite] => 45
            [promotion] => 
        )

    [MM+202] => Array
        (
            [prix] => 239.000000
            [quantite] => 5
            [promotion] => 
        )

    [HCM19M] => Array
        (
            [prix] => 63.000000
            [quantite] => 8
            [promotion] => 
        )

    [HBM20B] => Array
        (
            [prix] => 14.000000
            [quantite] => 600
            [promotion] => 15
        )

    [HCM192] => Array
        (
            [prix] => 166.000000
            [quantite] => 23
            [promotion] => 
        )

    [MM+152] => Array
        (
            [prix] => 215.000000
            [quantite] => 7
            [promotion] => 
        )

    [MM+162] => Array
        (
            [prix] => 218.000000
            [quantite] => 6
            [promotion] => 
        )

    [RRO22B] => Array
        (
            [prix] => 5.900000
            [quantite] => 0
            [promotion] => 15
        )

    [BBL22B] => Array
        (
            [prix] => 22.000000
            [quantite] => 90
            [promotion] => 15
        )

    [HCM22B] => Array
        (
            [prix] => 19.900000
            [quantite] => 0
            [promotion] => 15
        )

    [MM+22B] => Array
        (
            [prix] => 25.800000
            [quantite] => 0
            [promotion] => 15
        )

    [HBM21B] => Array
        (
            [prix] => 12.000000
            [quantite] => 600
            [promotion] => 15
        )

    [HCM21B] => Array
        (
            [prix] => 28.500000
            [quantite] => 15906
            [promotion] => 15
        )

    [HCM21M] => Array
        (
            [prix] => 67.000000
            [quantite] => 52
            [promotion] => 12
        )

    [MM+21B] => Array
        (
            [prix] => 34.000000
            [quantite] => 5128
            [promotion] => 15
        )

    [MM+21M] => Array
        (
            [prix] => 78.500000
            [quantite] => 42
            [promotion] => 
        )

    [] => Array
        (
            [prix] => 212.000000
            [quantite] => 2
            [promotion] => 
        )

    [HCB16B] => Array
        (
            [prix] => 16.000000
            [quantite] => 367
            [promotion] => 15
        )

    [HCB14M] => Array
        (
            [promotion] => 30
        )

    [YHUILE] => Array
        (
            [nom] => VINTAGE Olive Oil
            [millesime] => 2022
            [url] => vintage-olive-oil
            [photo] => photos/huile-olive/YHUILE.jpg
            [tva] => 5.5
            [prix] => 14.00
            [promotion] => 
            [quantite] => 50
            [contenant] => bouteille
            [contenance] => 35
            [unite] => cl
        )

    [YCOFFRET] => Array
        (
            [nom] => Christmas Box
            [millesime] => 0
            [url] => set-wine-oil-honey
            [photo] => photos/coffret/YCOFFRET.jpg
            [tva] => 20
            [prix] => 49.90
            [promotion] => 
            [quantite] => 50
            [contenant] => coffret
            [contenance] => 0
            [unite] => 
        )

    [YCOFFRETP] => Array
        (
            [nom] => Prestigious box
            [millesime] => 0
            [url] => set-prestige
            [photo] => photos/coffret/YCOFFRETP.jpg
            [tva] => 20
            [prix] => 39.90
            [promotion] => 
            [quantite] => 50
            [contenant] => coffret
            [contenance] => 0
            [unite] => 
        )

    [YCOFFRETE] => Array
        (
            [nom] => Exception box
            [millesime] => 0
            [url] => set-exception
            [photo] => photos/coffret/YCOFFRETE.jpg
            [tva] => 20
            [prix] => 45.90
            [promotion] => 
            [quantite] => 50
            [contenant] => coffret
            [contenance] => 0
            [unite] => 
        )

    [YMIEL] => Array
        (
            [nom] => Wild flower honey
            [millesime] => 2022
            [url] => wildflower-honey
            [photo] => photos/miel/YMIEL.jpg
            [tva] => 5.5
            [prix] => 9.90
            [promotion] => 
            [quantite] => 50
            [contenant] => pot
            [contenance] => 250
            [unite] => gr
        )

    [YCARTE] => Array
        (
            [nom] => Gift card
            [millesime] => 0
            [url] => gift-card
            [photo] => photos/carte-cadeau/YCARTE.png
            [tva] => 20
            [prix] => 0.00
            [promotion] => 
            [quantite] => 50
            [contenant] => 
            [contenance] => 0
            [unite] => 
        )

)